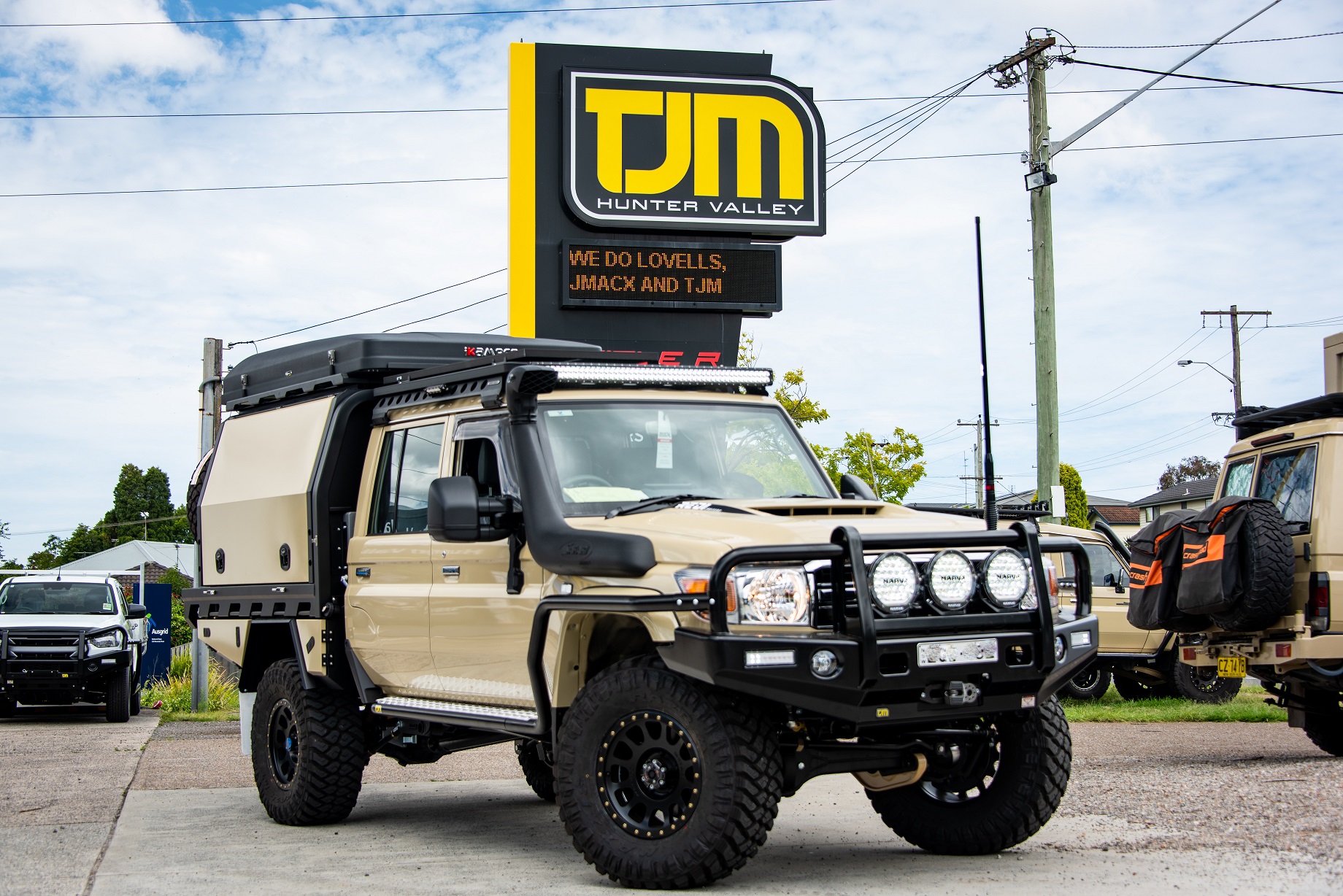 There's something about a Sandy Taupe 79 Series LandCruiser that gets us frothing! Is it the heritage colours that take us back to our grass roots of driving beat up old 40 and 60 series LandCruisers through the bush, the tough stance that signifies the robust build that we've all come to rely on or just the fact they look so damn cool? Well, it's probably all of the above, but let's face it – there's not much that beats a well-done Sandy Taupe 79, and this one has to be one of the best there is!
But this rig is not just a show pony, it's built to do the hard yards, carry loads and eat up those remote touring miles of dirt tracks and outback "highways". There're a few creature comforts thrown in just for good measure because it can't be all work and no play after all!
This build is based on the Jmacx 300mm chassis extension and coil conversion and runs a 4495kg GVM with 4 tonne towing. The chassis was Raptor Coated for the ultimate protection against stone chips and incorporates a rear winch cradle.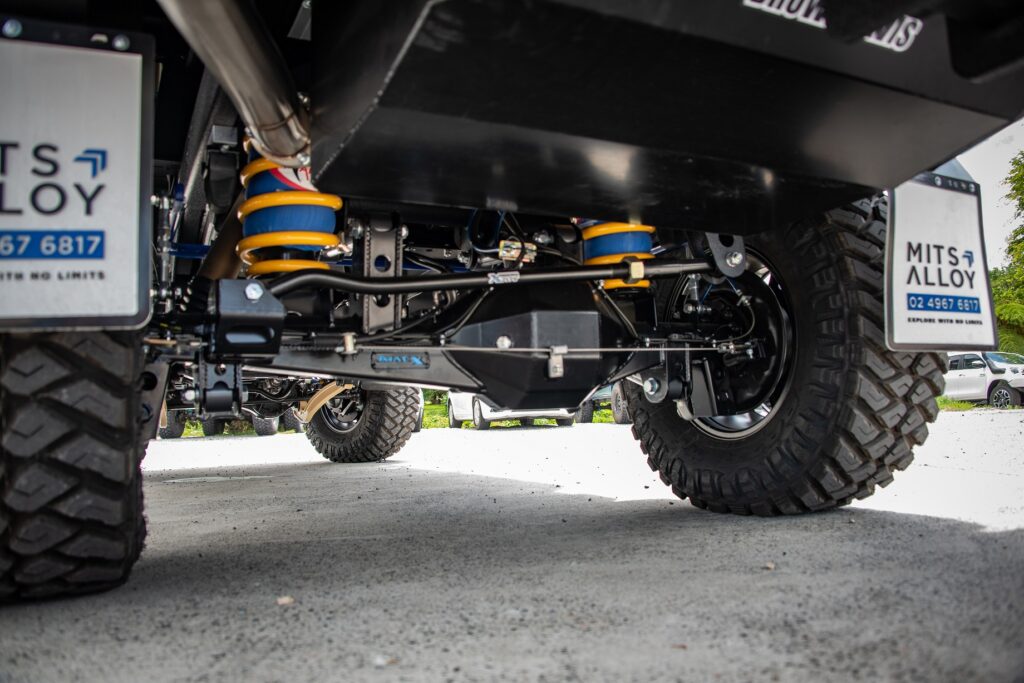 It's running the Jmacx Alpha 2.5 remote res shocks which feature electronic valve adjustment that can be controlled in-cab. The kit runs heavy duty 4" coils and is assisted with rear Airbagman high pressure air bags. There's a hydraulic brake booster to improve braking with the extra weight and bigger tyres.  All the radius arms, panard rods and control arms are all replaced with adjustable, heavy-duty items to suit the new suspension geometry and of course, a beefed up and extended tail shaft forms part of the kit as well.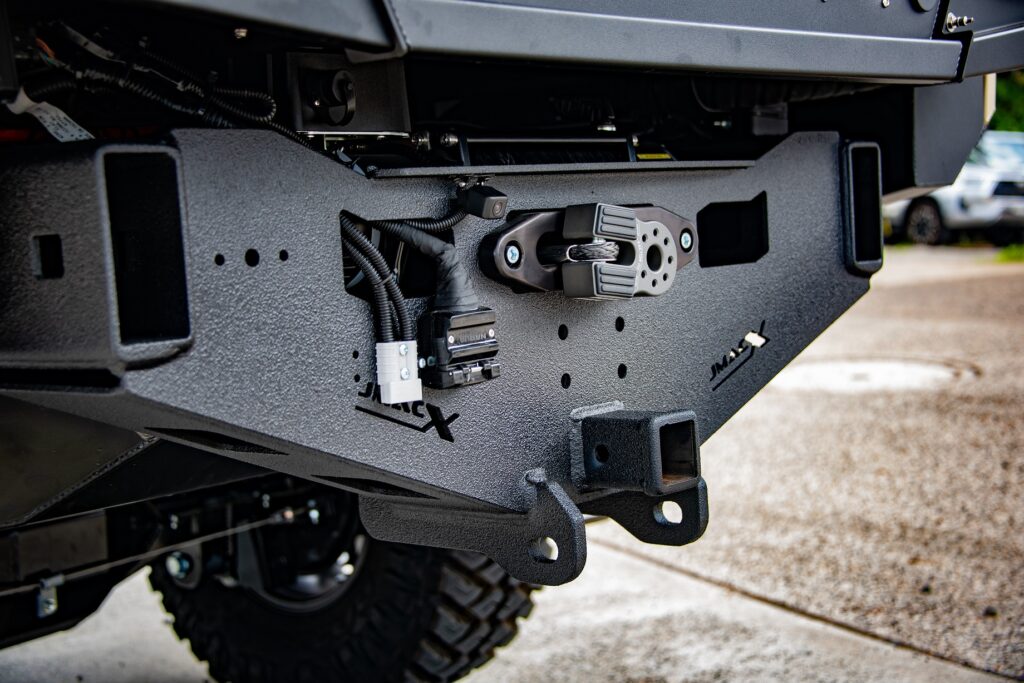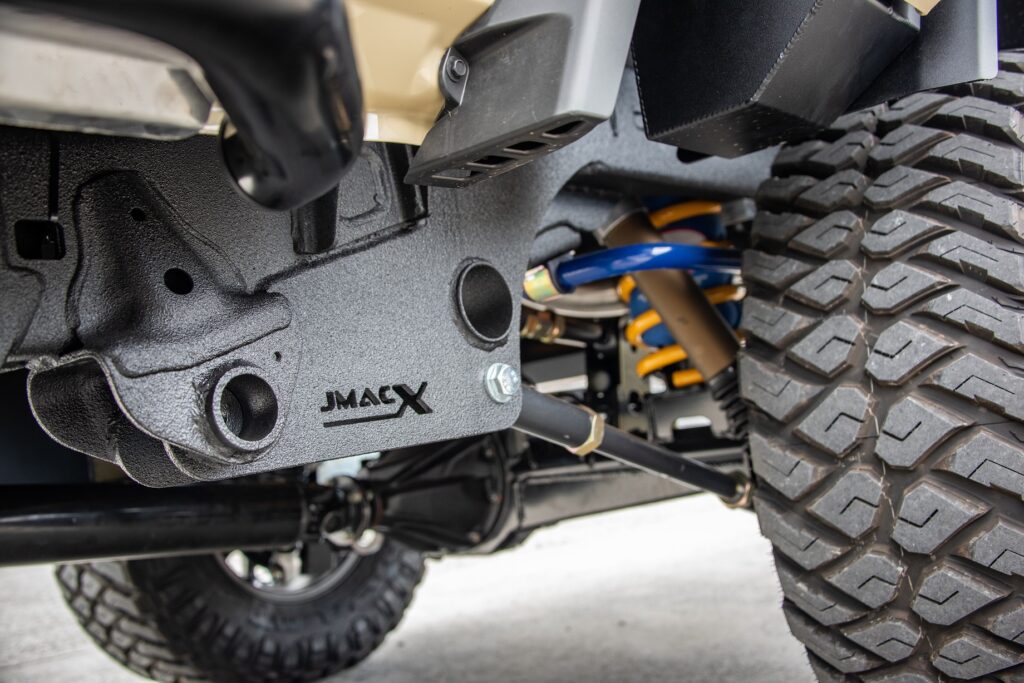 TJM bar work is up front with the newly designed T13 Outback Bar, front under-body guard, brush rails and steps. The newly designed bar has improved approach angle, strength, and features slightly different styling to the old bar.  The bar houses a 12,000lbs TJM Torq winch with a Factor 55 Flat Link winch shackle mount for forward recovery duties. There's also another of the same winch in the rear cradle for rear recoveries.
There are 3 Narva 215 Ultima MK2 LED driving lights for turning night in to day and GME AE4705B 6 dB antenna mounted to the bar to take care of communications signals.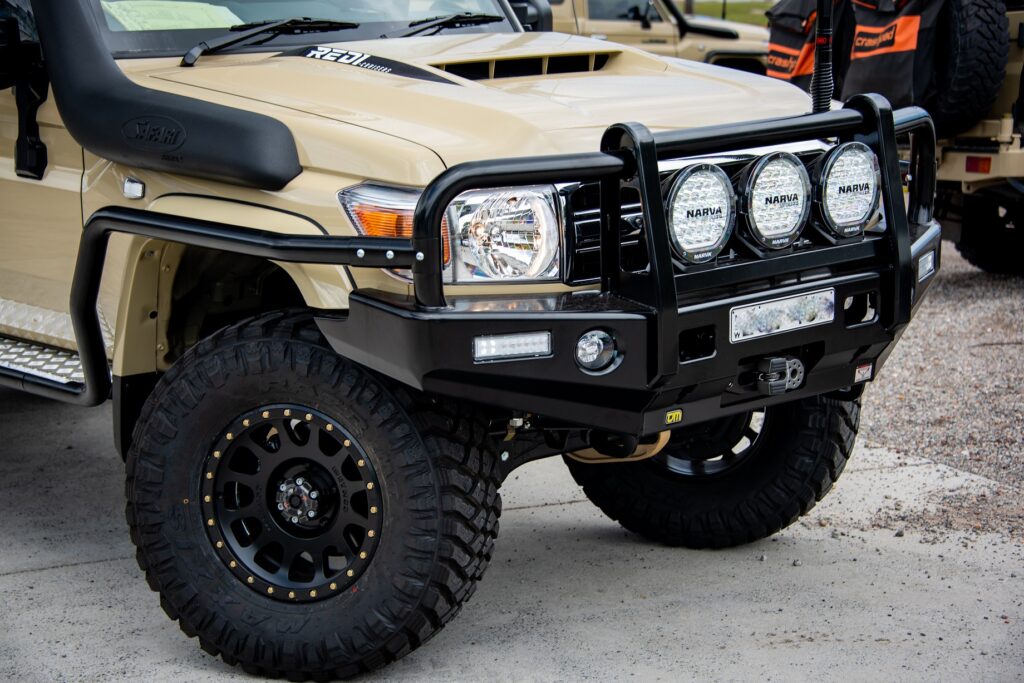 Another other big-ticket item for this build is the awesome looking sandy taupe and black Mits Alloy tray and canopy package. Mits have especially developed a tray and canopy package to suit the Jmacx chassis extension making perfect use of the longer tray length too with a set of compact toolboxes. The tray features built in water tanks, trundle draw and the rear tapered toolboxes leave an excellent departure angle so there's no crunchy-crunch when you pull out of a tight gulley or creek crossing.
Inside the canopy is nothing short than a work of art with full Enerdrive Lithium battery set-up consisting of 40a AC & DC chargers, a 300A/hr Lithium battery, a 2000w inverter, Simmarine display and 180w solar panel mounted to the roof platform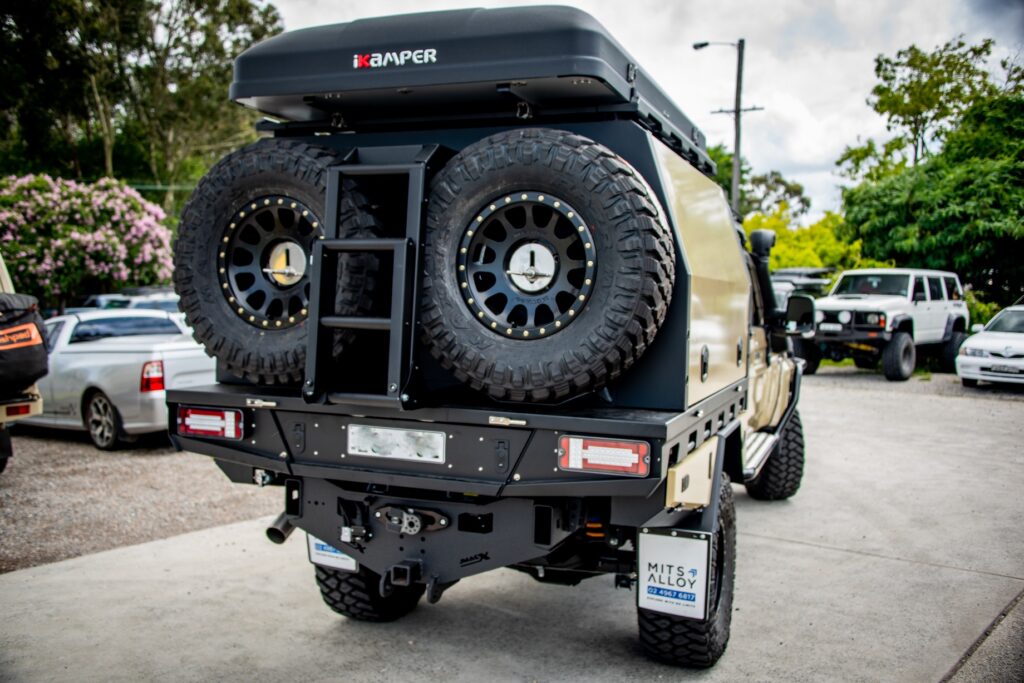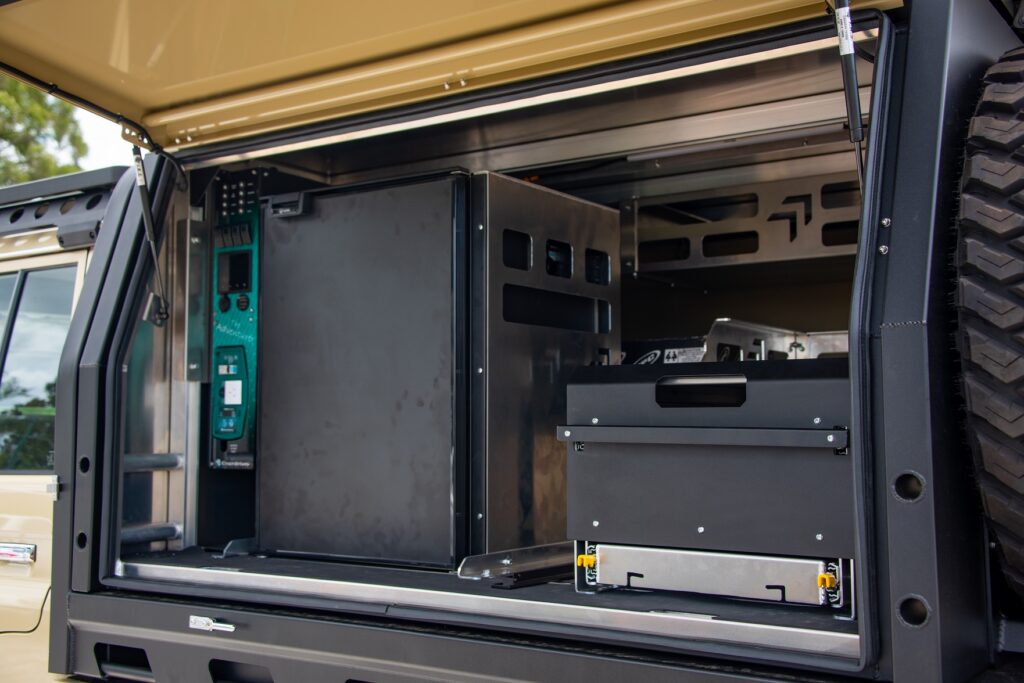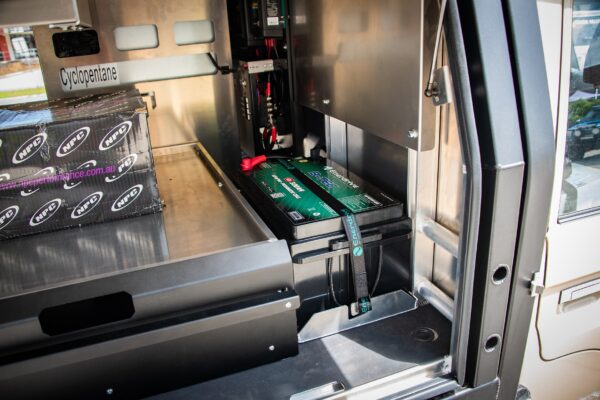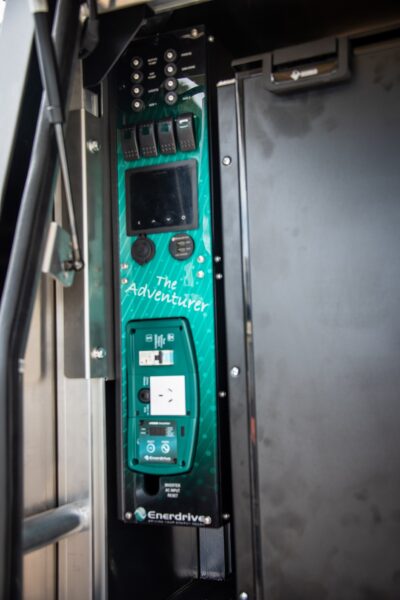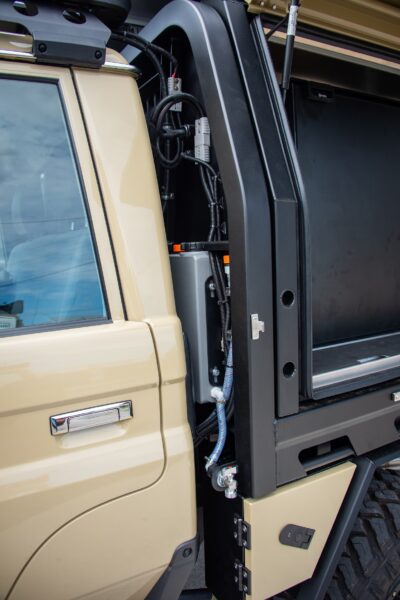 A Bushmans 130L DC130-X upright fridge keeps the bevies cool in the outback heat and is fitted just nicely between the array of draws and shelving, making this canopy fit-out the perfect base station to live out of while you're on the road.
There's something else you'll notice about this 79 that's a bit out of the usual. The T-bar auto cog swapper sitting smack bang in the middle where the manual shifter used to be. Whenever we drive one of these, we can't fathom while Toyota never released a factory auto option on the 70 Series. Yeah, sure, we all love crunching a gear or two out on the tracks, but the refinement and drivability of the auto in a 79 makes these things a completely different beast to drive. The conversion was done by our good mates at All Four x 4 Kotara, using the Wholesale Automatics conversion kit which is a 6 speed auto from the 200 Series Landcruiser.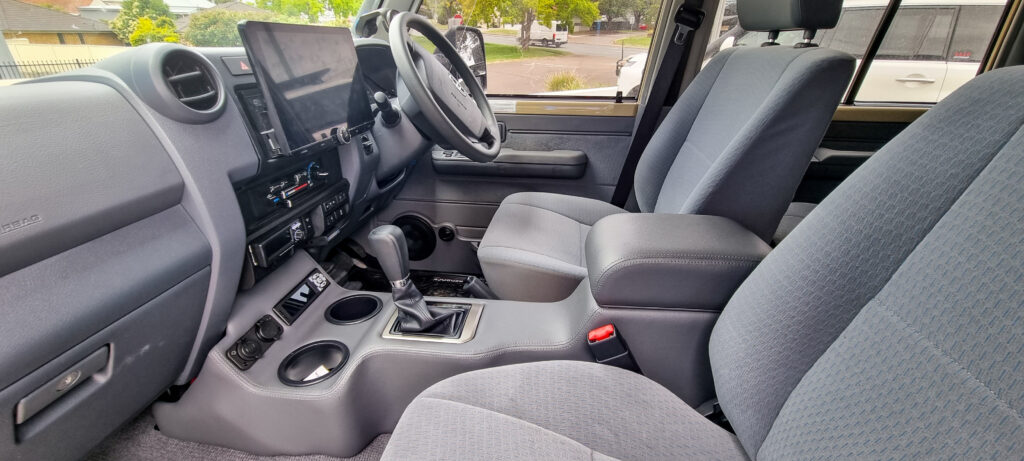 Other performance enhancements include a Safari Armax Snorkel plumbed into a Patroldocta high-flow airbox and, HPD upgraded top-mount intercooler and Torqit 3.5" stainless steel exhaust. A Rapid Power high-output alternator was fitted to handle the extra power load which is a water-cooled unit plumbed into the VDJ's cooling system so that the unit can be fully sealed and provide protection from the venerable positioning of the alternator by stopping water, mud and dust ingress.
A Ryco catch can and fuel separator prefilter kit is also fitted to give the engine the best protection against intake build-up and dirty outback fuel. An under bonnet dual battery system is also installed consisting of a TJM 25a DC/DC charger and Century Dual Force AGM hybrid battery for when the canopy is jacked off and an alternate power supply is needed.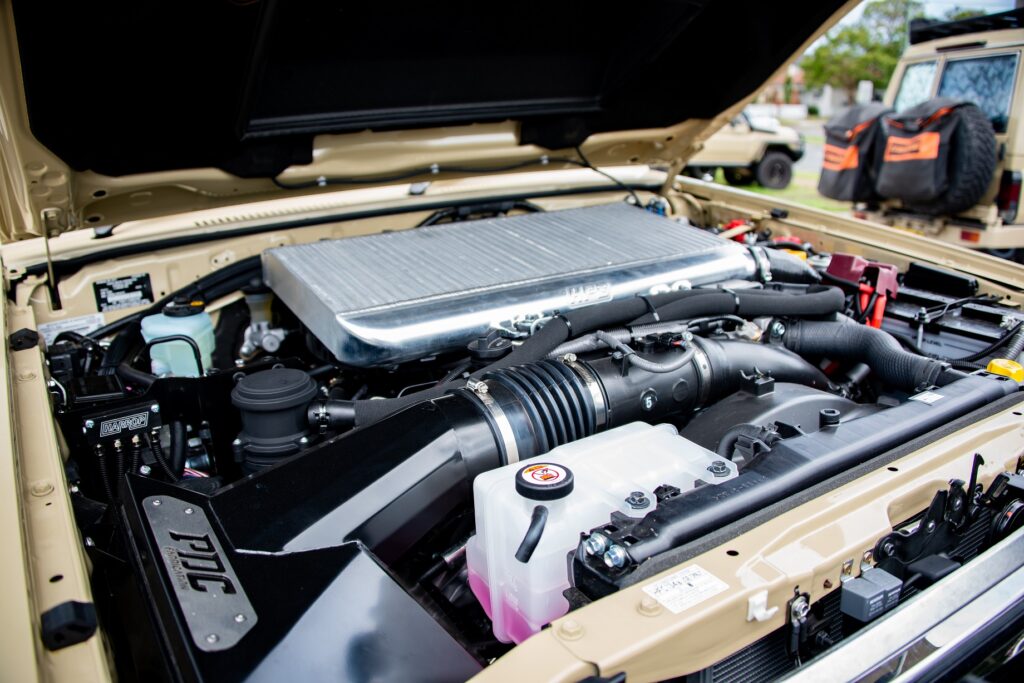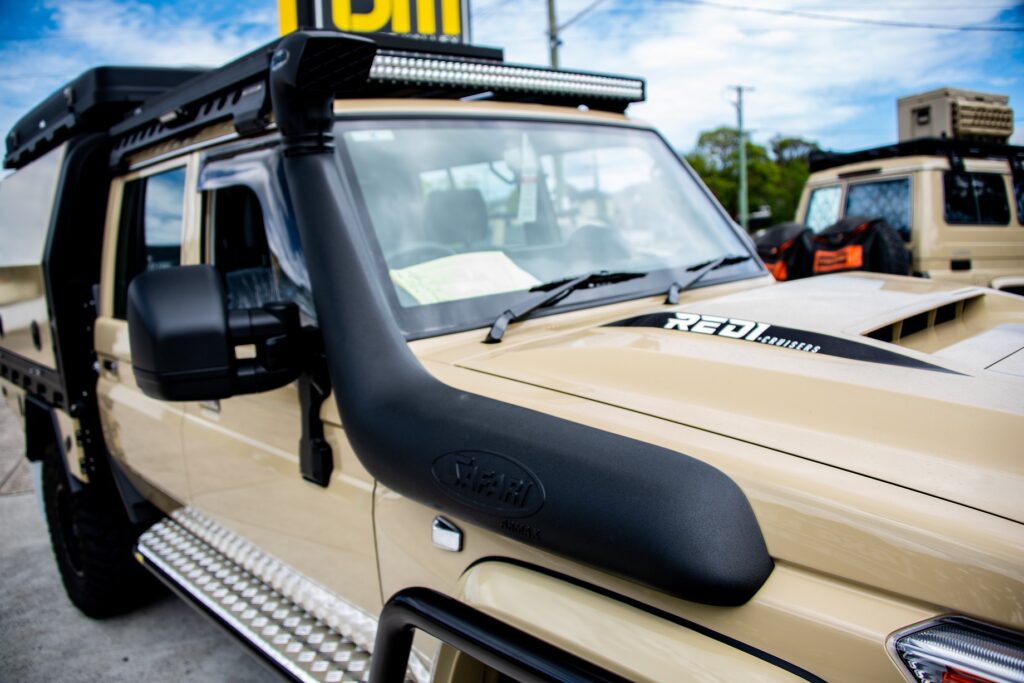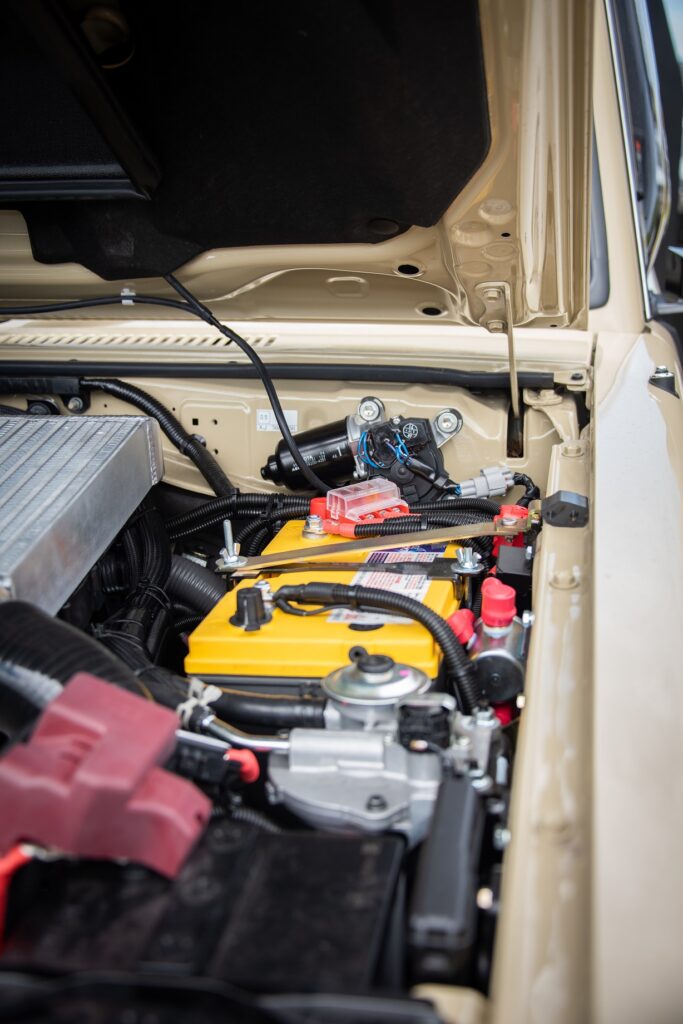 A Harrop diff breather kit was fitted with breathers on both diffs, transfer case and transmission. A Brown Davis long range tank which has been especially designed around the Jmacx conversion was fitted giving the big 79 an extra 115L of fuel.
The interior was fully stripped out and Dynamatted for road noise insulation and front centre of the dash sits that massive Kenwood 10.2" floating screen. The speakers are DB units with custom front and rear door cards to house the speakers and the instillation was completed by the wizards at House of Soundz in Newcastle. A set of Clearview Next Gen electric mirrors are a huge improvement over the old steel framed mirrors from the 1960s.
An array of Stedi OEM style switches and fascia panels line the 79's busy dash controlling lighting, fuel tank transfer, mirrors and everything that opens and shuts (which isn't very much on a 79!)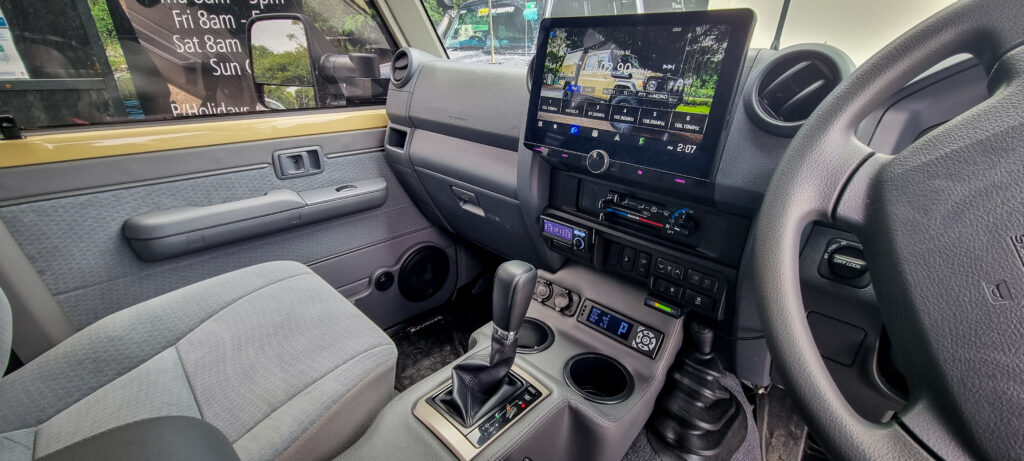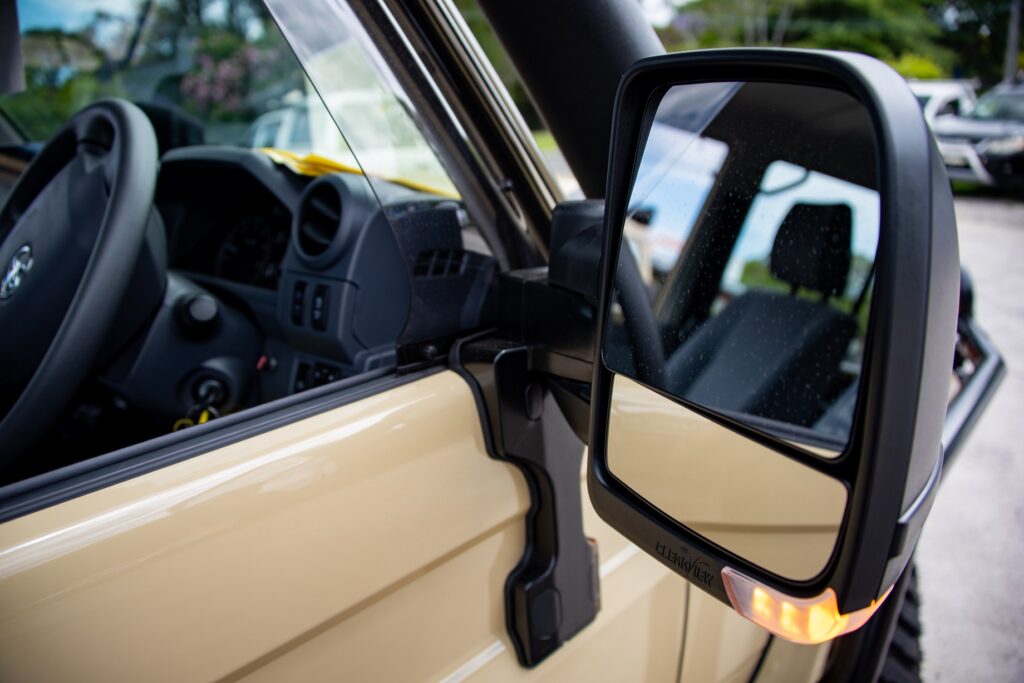 On top of the cab is Rhino Rack Pioneer Platform using the Backbone mounting system improving storage space for touring and it also acts as a good mounting point for the Stedi LED camp lights and solar panel. An iKamper hard shell roof top tent forms the sleeping quarters for this bus when on-tour and it's the Skycamp 4 in the Rocky Black finish.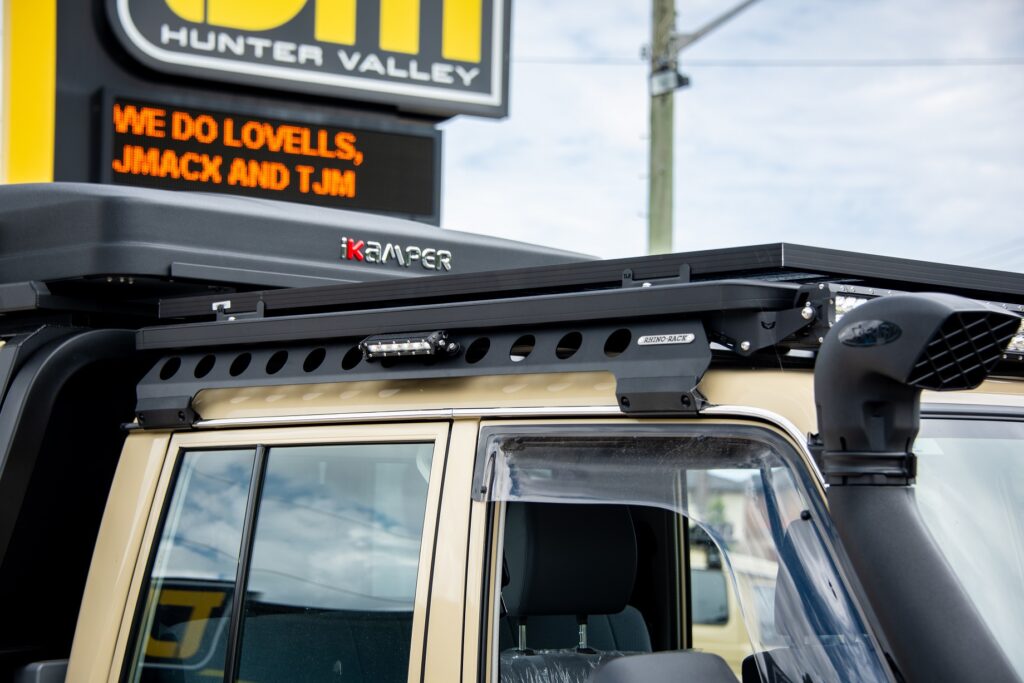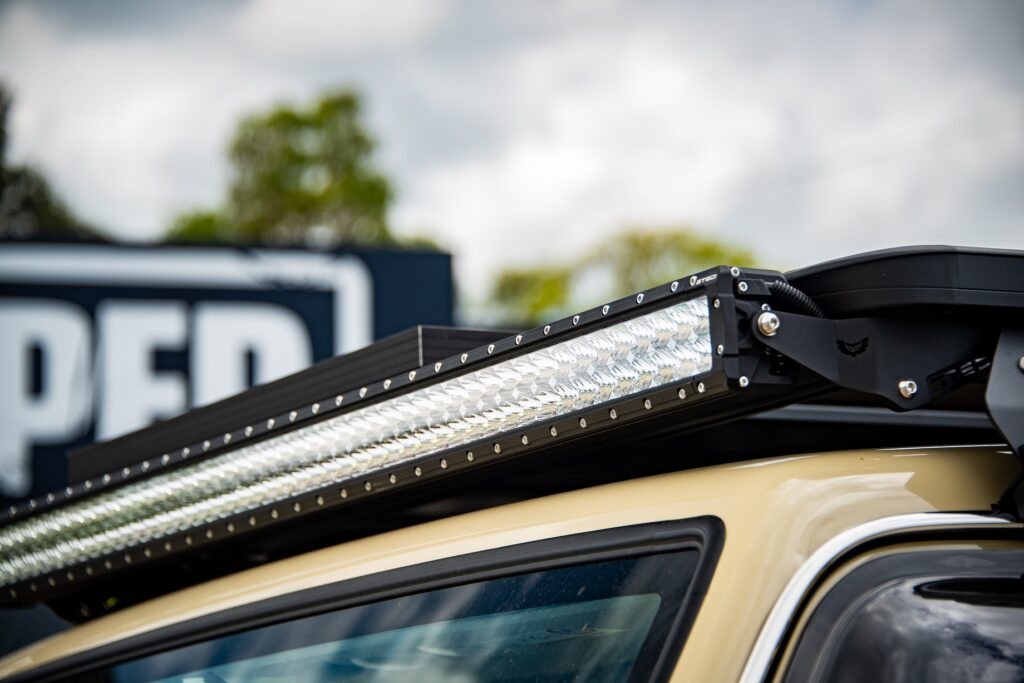 The whole package is rolling on Method NV HD 305 alloy rims that measure 17x 8.5" with a zero offset, wrapped in Maxxis Razr MT772 mud terrain tyres which are a true 35×12.5" size. This savage Sandy Taupe 79 is definitely one of the best and will be doing the hard yards around this great country of ours so keep your eyes peeled for it!