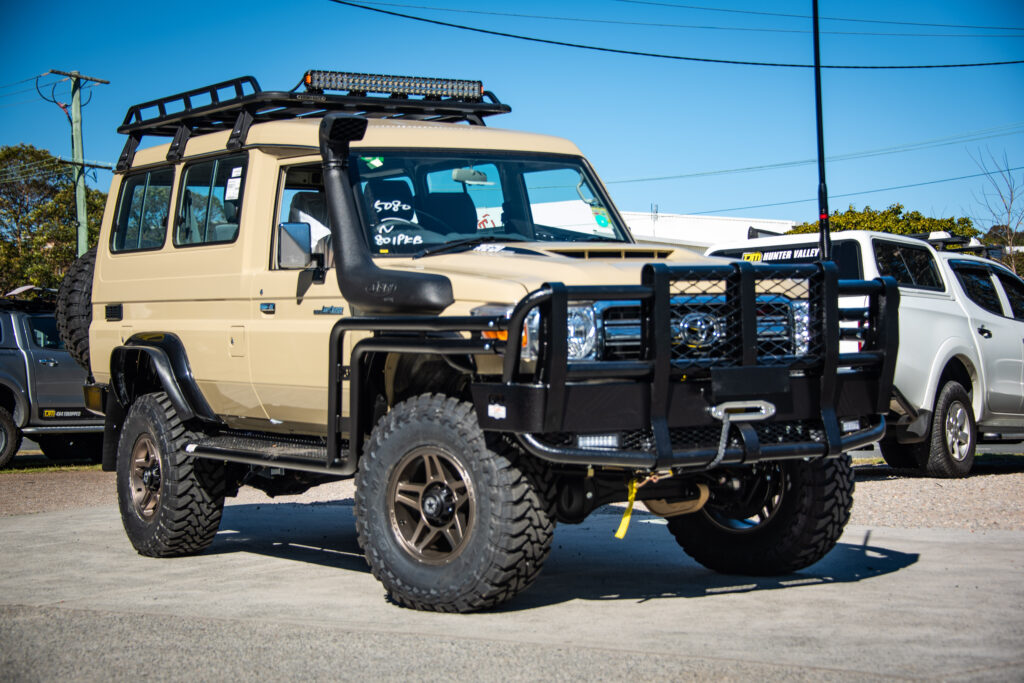 Touring the outback can be a tough gig sometimes! Our fantastic Aussie wildlife is not particularly well known for its road sense, so when planning a build that's got to get you there and back again with no questions asked, sometimes it pays to take no prisoners when it comes to protection for your rig.
This Troopy build has all the boxes ticked and before we talk about the zombie apocalypse-proof bar work, let's talk about what lies beneath! The basis for the build is the Jmacx Coil Conversion with 4200kg GVM Upgrade completed.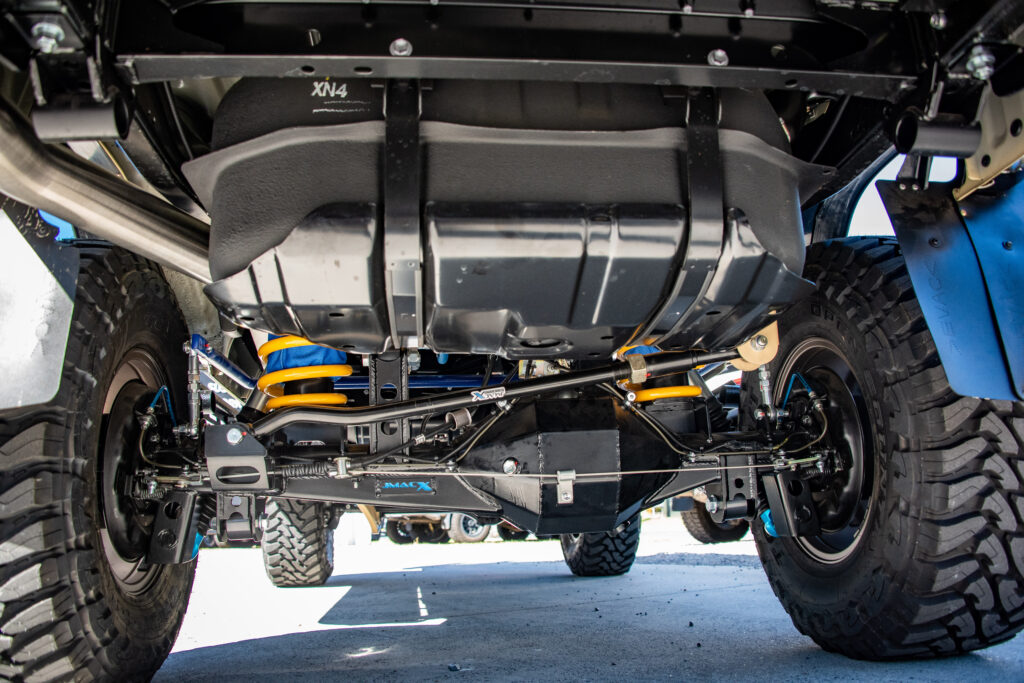 Giving the big sandy taupe bus the ability to load up, tow and still have plenty of payload to play with, while offering the ride refinement of a coil sprung vehicle really is the best of both worlds and that was the overall goal for this build. We are talking heavy duty bar work and with that comes plenty of weight so the 4200 GVM was the go-to option in this case.
The 4200GVM kit comes standard with airbags for towing assistance and a clutch upgrade which is a must when you look at adding weight and bigger tyre sizes on the 70 Series. We've tested these NPC heavy duty clutches on our own fleet of vehicles, and they've outperformed anything else in daily heavy-duty towing applications. The standard brake booster is also upgraded with the kit with one that Jmacx have developed especially for this kind of work.
This particular build was optioned up with the Kings remote res adjustable shocks and sits at 4" of lift. The crew at Torqit have designed a performance 3.5" stainless steel DPF back exhaust to suit the Jmacx kits and it helps move those exhaust gasses more efficiently than the standard unit while offering a better note as well.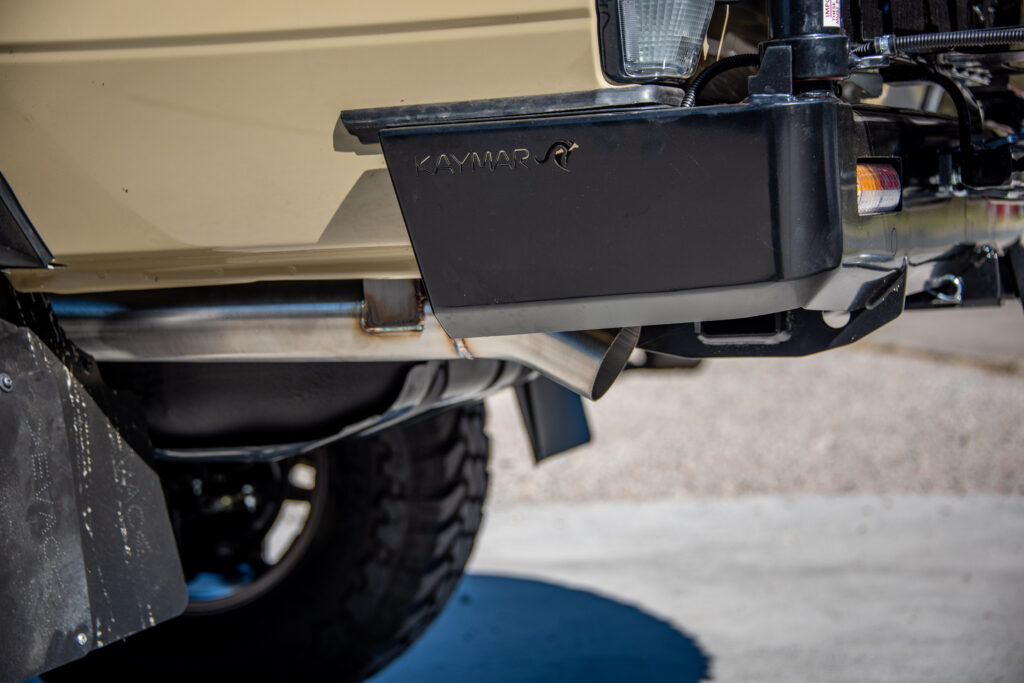 Now for that bar work! Tuff by name and tough by nature is the 5 Post winch compatible Tuff bull bar running 60mm tubing and complimentary 60mm double rail brush bars running to those huge side steps. This is the sort of bar work you need when animal strikes are not just a matter of if, but a matter of how many per day! Nothing is getting through that front-end protection!
A TJM 12,000lbs Torq winch is housed in the bar for recovery duties when the going gets tough and the GME antenna sits out-front running signal back to a GME XRS UHF radio.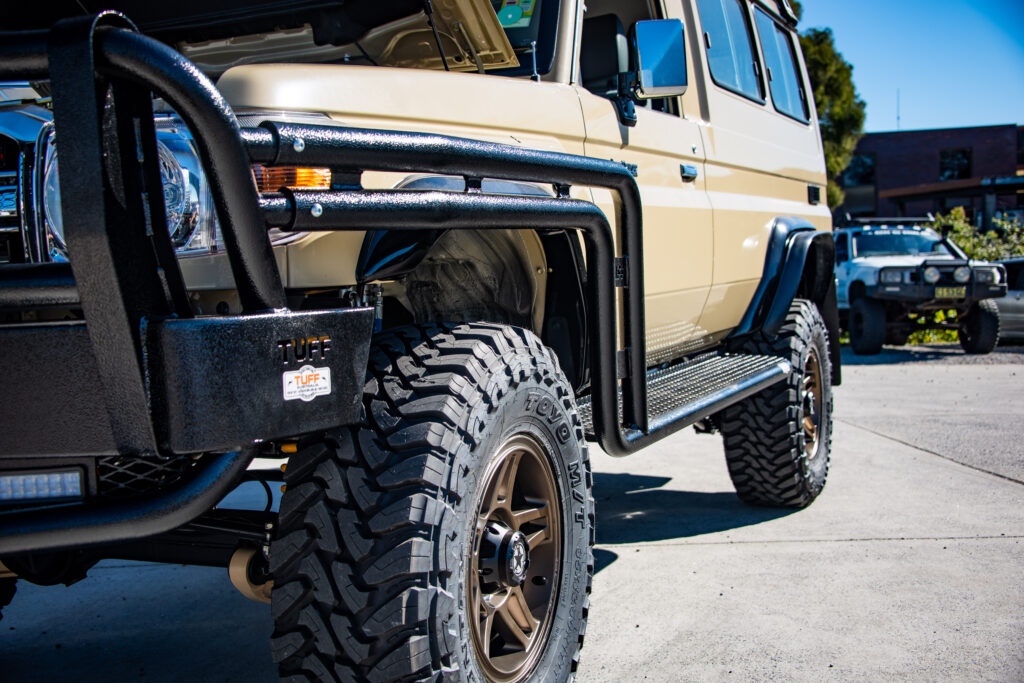 Rear panel protection is in the form of a Kaymar rear bar which holds a single rear wheel carrier and double jerry can holder. Roof rack storage is by way of a Rhino Rack Pioneer Tradie Rack and this also gives a platform to mount the Stedi 39" Pro light bar.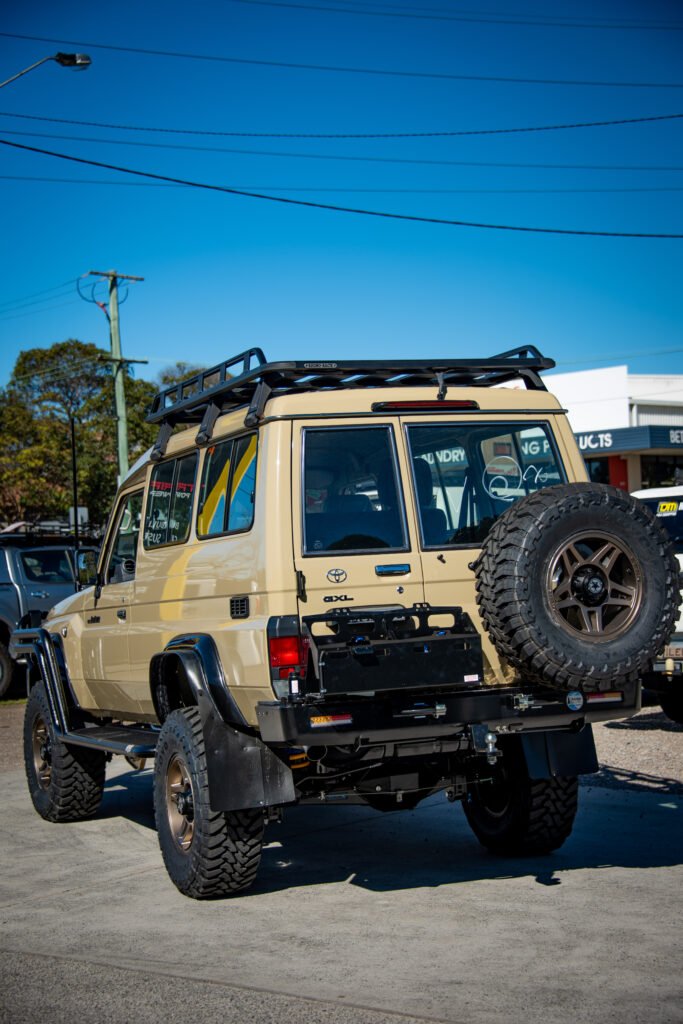 With all the extra weight added, more power would almost certainly be needed. For better, cleaner airflow and to take care of water crossing duties a Safari Armax snorkel was fitted. This feeds air into the Patroldocta stainless steel high flow airbox. The intercooler was upgraded to a HPD top mount unit, and a further power increase was achieved with a Torqit Module Map DIY tuning module offering up to a 70% gain in torque. Throttle response was further improved with an EVC iDrive and fuel system protection improved with a Direction Plus Preline filter.  There's also a Harrop Diff breather kit fitted venting both diffs, gearbox and transfer case.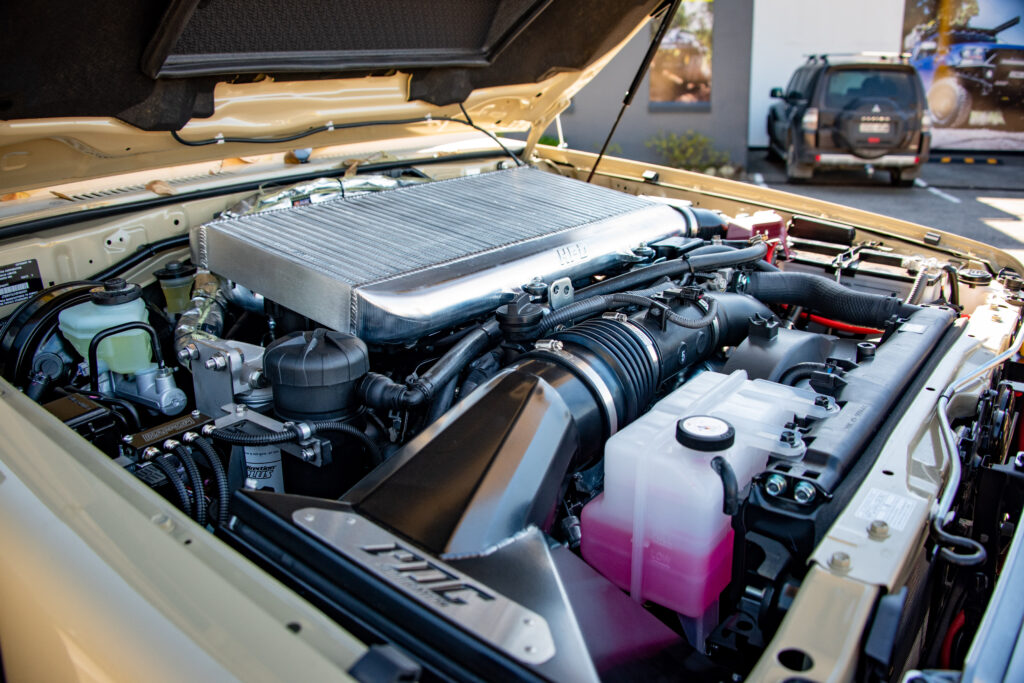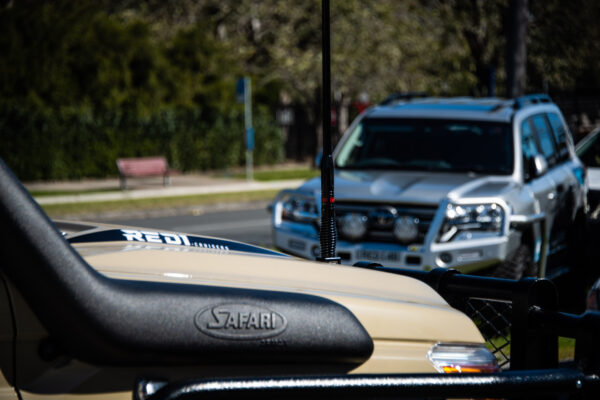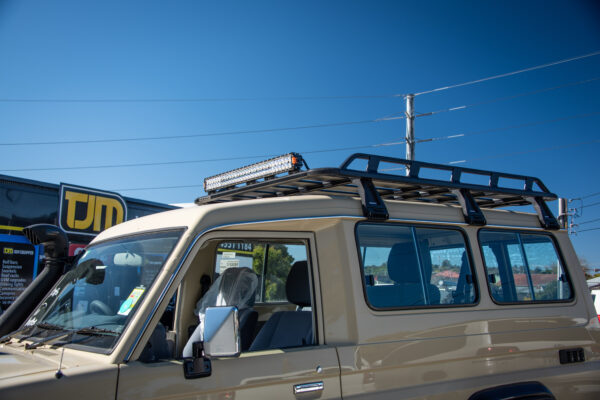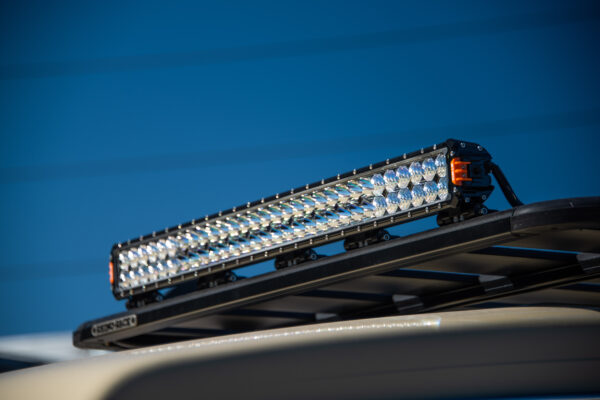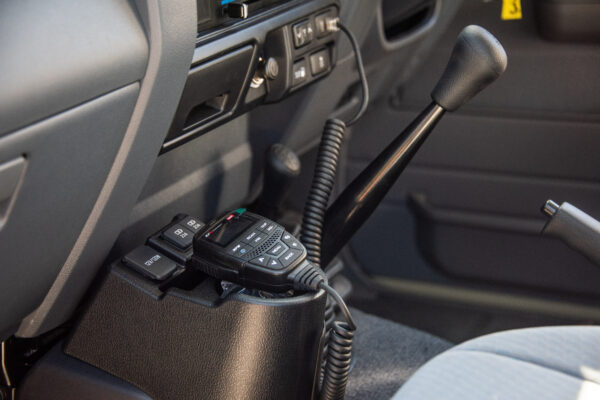 A common fault with the 70 Series is the weight of the bonnet causing the bonnet rod to bend over time. A set of Marks Adapters Bonnet struts were fitted to alleviate the problem and making accessing the engine bay so much easier.
The whole build is rolling on Pcor 17×9" wheels wrapped in Toyo Open Country Mud Terrain tyres measuring 35×12.5 x17". TJM fibrglass flares and moulded rubber flares on top of those were required to keep the big rig on the favourable side of the law and offer extra protection from stone chips and mud.  This is one tough Troopy that's built to take on whatever the outback can throw at it! The new owner couldn't be happier with it and we're happy to send out yet another Redi Cruiser into the world ready for adventure and ready to tackle the hard stuff!