Product Description
Note: fits  73/75/76/78/79 series landcruiser. Except kzj78 with the upholstery on the door sill, slight modification needed.
70 Series Landcruiser Armrests by One Stone Armrests are the perfect upgrade to your 70 Series Landcruiser.  While offering more comfort, additional cup holders, they also offer a stylish look that matches your interior.
The One Stone Armrest is the next addition to your Toyota 70 Series LandCruiser. With comfort and practicality in mind, the armrest + cupholder will blend seamlessly into the interior of your LandCruiser.
Made with the most durable materials, the One Stone LandCruiser Armrests lock securely into the window well of your driver or passenger door, fastened with magnets to prevent rattles.
Passenger and driver side armrest and cupholder (PAIR)
Can be made to fit 40/60/80/100 series and GQ with some minor changes to the bracket
Check out @tuffenuff4cruisin's video on the One Stone Armrests here.
As featured in our build gallery here.
Price is for a pair. Choose Black or Grey Option
Redi Cruisers are bringing together the best names in the business to give you the best premium brands online for your Land Cruiser.
One Stone Armrests have gained a reputation amongst 70 Series Landcruiser owners as being a must-have upgrade for your 70 Series, so we are happy to be able to offer this Australian designed product, shipped to your door.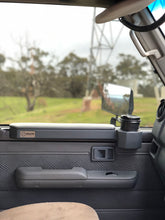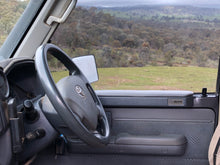 Images are for illustration purposes only.