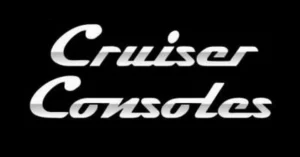 When it comes to exploring the rugged terrains of Australia and beyond, the Toyota Land Cruiser 70 Series has earned its reputation as a dependable and capable off-road vehicle thanks to Toyota's mentality of 'if it ain't broke, don't fix it'. This mentality does unfortunately extend to it's interior, with a design barely updated since it's debut in ****
Established in 2012, this family-owned Australian business has been dedicated to crafting top-notch accessories for your 70 Series Land Cruiser, and they have quite an impressive range to offer. In this blog post, we'll delve into the world of Cruiser Consoles, highlighting their diverse product lineup, including Roof Consoles, Floor Consoles and Fridge Consoles.
Product Range
Roof Consoles: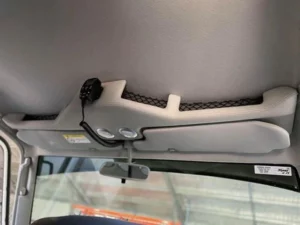 Cruiser Consoles' journey started with Roof Consoles, designed to optimise overhead space in your Land Cruiser. These consoles offer a spacious storage option for all your essentials, keeping them within easy reach while you tackle challenging terrain. Whether you're storing maps, sunglasses, or communication equipment, these consoles are a practical addition to your off-road adventures. Whilst looking big in the photos, these consoles efficiently minimise interference with the driver's line of sight while still offering generous storage space. These consoles utilise factory mounts already present on your cruiser, meaning you don't have to go sticking holes in your clean cruiser!
Centre Floor Consoles:
The Centre Floor Consoles by Cruiser Consoles are tailored to fit seamlessly into the Land Cruiser 70 Series models, again utilising factory floor mounts! These consoles offer additional storage space while maintaining the vehicle's aesthetics. Whether it's charging your devices, a handy spot to stick your drink or storing some of that gear rolling around your footwell! These consoles are incredibly versatile and a MUST HAVE for your rig.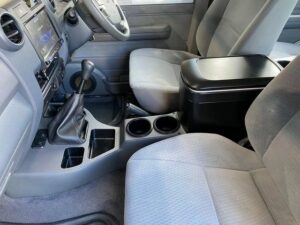 Keep your perishables fresh and your drinks cold with Fridge Consoles from Cruiser Consoles. These innovative consoles are designed to house a portable fridge (such as a Bushman Fridge), ensuring you have refreshments readily available during your expeditions. Say goodbye to the hassle of dealing with ice boxes and soggy sandwiches!!
Compatibility
Cruiser Consoles has meticulously designed their products to cater to a wide variety of Land Cruiser 70 Series models, including the 79 Single & Dual Cabs, 76 Wagons, and 78 Troop Carriers. This commitment to versatility ensures that no matter which Land Cruiser you own, you can find the perfect Cruiser Console accessory to deck out for your adventures!
Cruiser Consoles has made a significant mark in the world of Land Cruiser enthusiasts by offering a diverse range of interior accessories designed to improve your off-road experience. Their clever storage solutions are crafted with precision and care, ensuring they not only serve a functional purpose but also enhance the overall aesthetics of your 70 Series Land Cruiser.
We are massive fans of Cruiser Consoles products and fit these to every rig we can! We ensure we almost ALWAYS HAVE STOCK of their gear, meaning NO LEAD TIMES or extra waits! Check out our store for a console that'll fit your rig.