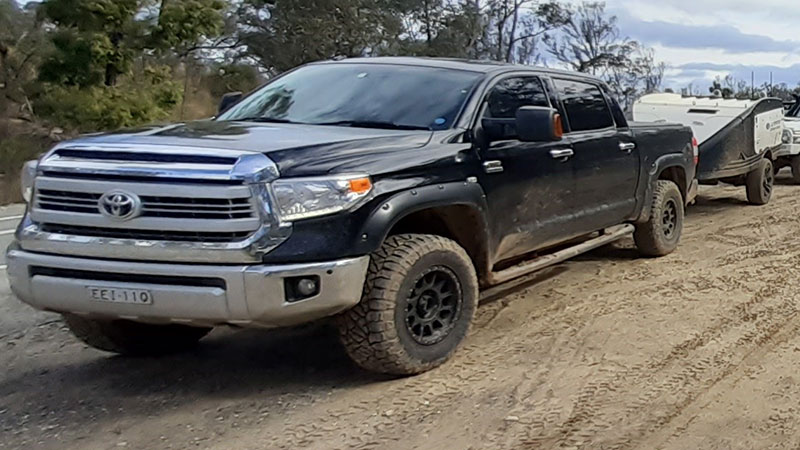 Why spend all that money on a 70 Series cruiser when you can just buy an American truck for the same price? It's a question that we hear get thrown around quite a bit, but when you start do break it down, the reasons for owning a modified cruiser over an F150 or a Dodge Ram start to become more and more obvious.
Of course, a lot comes down to what you actually intend to do with the vehicle. Off the shelf, an F-truck or a Ram represents great value when you want to drive from the show room, hook up to a big trailer or van and drive straight up the highway form city to city. They're big, powerful, comfortable, have big towing capacities and are usually loaded with features.
By stark contrast, a standard 70 Series Cruiser off the showroom floor has very basic features, power is a little underwhelming and the comfort factor is a not the worst, but hardly screams luxury – or anything remotely close! But the beauty of the 70 lies in its potential to modify, its class leading build quality, and a service and parts network that is possibly one of the best on the planet.
While the Landcruiser does lack a lot in standard form, the fact that it's been tried and tested in Australia's harsh outback conditions puts it ahead of the game straight out of the starting gate. American trucks are built to take a fair amount of abuse BUT, their road conditions over there as well as the type of off-road driving that is typically done in the States doesn't compare to some of the goat tracks that we consider highways here.
While the amount of American trucks now being imported has dramatically grown over the past couple of years (both privately and by commercial dealers), the parts and service network has not yet made its way into many remote and even many rural communities.  So effectively a break-down in outback Australia will nearly always leave you lurking around in the middle of nowhere waiting for parts to come from a city or large regional town dealership.
The positive side to having a vehicle like the 70 series Landcruiser that was designed in the 1980s and hasn't really changed much since, is that parts sharing between models is actually quite amazing. There are many replacement parts that carry over from the first 70 Series Landcruiser built in 1984, that will actually fit the 2020 model. For a vehicle that has been owned by just about every farmer in existence, every outback station, every fire service, every police force and every major utility company that has ever operated in this country – you will be hard pressed to find anywhere in this wide brown land that doesn't have a stockpile of Landcruiser parts lying around somewhere to get you out of trouble.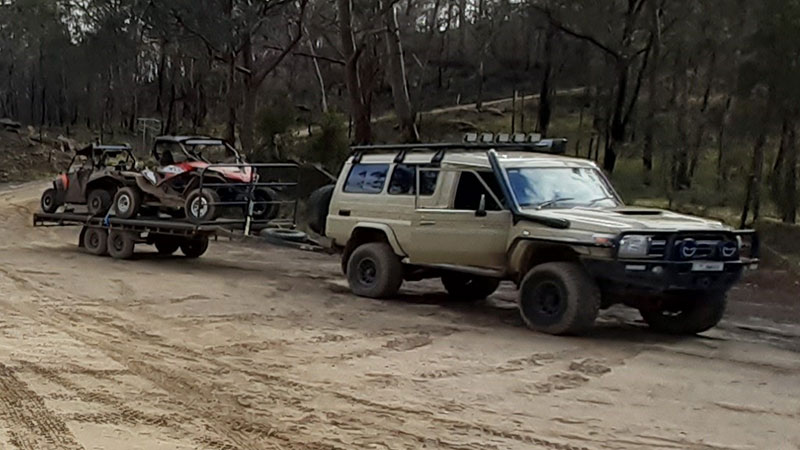 The Numbers
Let's compare the numbers between a 70 Series and the Ram 1500, which is one of the more popular American dual cabs on the Aussie market. In standard form the Ram is reasonably impressive – particularly its 4.5t towing capacity and GCM of 7237kg. They have a tare weight of 2620kg, a GVM of 3450kg which leaves the payload at around 830kg. Add accessories (they are fairly limited at the moment), fuel, passengers and potentially a ball weight of up to 450kg and it all adds up quite quickly. The bigger problem with the picture here is that while there are some companies developing a GVM upgrade kit for the Ram – there have been issues with axle weights  and braking leaving the Ram currently restricted to not much more than the manufacturer's specifications.
While the 70 Series offers less than the Ram in standard form, there are a range of GVM upgrades available through various companies that will offer up to 4490kg GVM, 4t towing and a GCM of up to 8000kg. That allows over 2300kg of wiggle room on the vehicle while towing 3.5t, or around 1800kg on the vehicle while towing 4t. This is based on the standard kerb weight of the cruiser of 2175kg.
The outlay for something as extreme as this will definitely cost more Ram but when it comes down to selecting the right tool for the job, a modified 70 Series starts to make much more sense than the American pick-up option
For the price of a simple tune or a few basic power upgrades, the potential of the lazy VDJ turbo diesel V8 motor can really produce some impressive numbers that will easily compare with likes of a Ram 1500 and still retain the legendary Toyota reliability. The whole diesel VS petrol argument is another conversation all together.
There are also quite a large number of aftermarket interior options for the LC70 these days, offering more creature comforts, technology and functionality than you can poke a stick at. The old farm truck tarts up just nicely with a splash of leather and some flash, you-beaut, fancy pants touch screen buttons.
So, no matter what way you look at it, there are several reasons why you would choose a Landcruiser over an American pick-up. That's always been the appeal, and the reason Toyota keeps making and keeps selling the LC70 in droves.