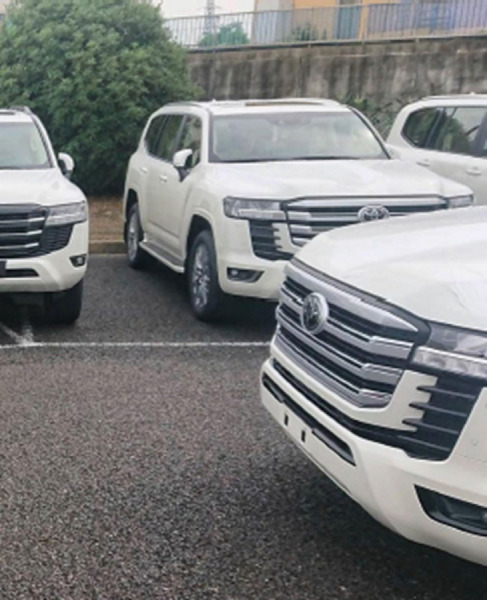 With all the speculation and rumours on the new replacement for the 200 Series LandCruiser floating around the interwebs, it's good to see some actual, factual information in the form of leaked Toyota marketing documents by the Instagram page Land.Cruiser.300.
These leaked documents confirm things we know Redi Cruisers readers want to know, such as performance specs, GVMs and GCMs on the new 300 Series LandCruiser. While it does confirm what we already knew in terms of the V8 being done and dusted (with the exception of the 70 series of course), it also confirms that power output will be increased with the introduction of the 3.3L V6 twin-turbo diesel taking the power to 225kW @4,000rpm and 700Nm of torque being delivered from 1600rpm.
The documents show the GVM at 3230kg and GCM at 6730kg with a braked towing capacity of 3500kg. Most of the physical dimensions including wheelbase remain unchanged meaning that ramp-over, approach and departure angles will pretty much stay the same.
Fuel capacity has been reduced in a bid to lower the overall weight, although the more fuel efficient V6 should obtain a similar range than the previous model LC200. While changes to the body seem relatively subtle, the adoption of an aluminium roof is also improving overall weight to add to fuel efficiency.
The hydraulic KDSS suspension of the previous 200 has been dropped for an electronically operated (E-KDSS) system that unlocks front and rear stabilisers to improve off-road axle articulation. Front and rear diff locks will be available as standard items on the GR-S models and Multi Terrain select management system will be across the board which features sand, mud and rock modes.
There is no factory snorkel on base models, and it appears that rear barn-doors may be done away with as well. Roof load ratings also remain the same as the LC200.
Of course, these are all based off specs for the South African market and while we aren't anticipating too much change for the Australian release (not yet announced), we would expect the usual differences between international markets such as trim level codes and a few subtleties to remain typically Australian.
While styling is always in the eye of the beholder, we here at Redi Cruisers are liking the new look and looking forward to the aftermarket getting hold of one of these bad boys and having their way with it. A bull bar to shorten up that front end, lift kit to give it some height, snorkel, some nice wheels and chunky tyres will easily have one of these things looking like a proper 4WD and we're sure they will be every bit as capable of the outgoing 200 Series which as been such an awesome vehicle over the years.
Photo Cred Land.Cruiser.300