Product Description
Bushman Fridge Centre Console by Department of the Interior – LC76 Wagon STEEL DASH ONLY   – Fridge Not Included and can be purchased here Click Here
# If you own a  76 Series StationWagon please read the FAQ page before purchasing this console to view information regarding the space between the two genuine bucket seats as adjustments is required #  See link below
The following accessories come standard in our Full Length Fridge Console:
+ Two jumbo size plastic cup holders
+ Removable plastic L Shape Tray
+ Manual gear boot
+ Padded lid insert
+ Installation hardware and instructions
Product dimensions
Height: 530mm (measured from the lowest part of the floor and incl. armrest/ padded insert)
Width between the seats: 220mm
Length: 1165mm (at longest point on the driver side- in front of the 4WD lever)
Points of interest
Built tough- this product is constructed with exterior grade, marine bonded plywood with galvanised steel reinforcement.
Easy to clean- the fridge, ABS plastic cup holders and L shape storage tray. You can easily take these items out of the console to clean.
French Seam upholstery- our product has a professional soft padded vinyl finish
Colour match to your interior- our Dash Indent vinyl matches the grey dashboard, steering wheel, glove box etc. our 301 black vinyl matches the black instrument panel in the centre of the dashboard.
No rattles- we use ABS plastic instead of metal for our cup holders and storage tray to avoid any rattles from coins, cans, metal coffee mugs etc.
Easy to fit- this product has galvanised steel mounting brackets positioned to locate existing captive nuts in the floor. No holes to be drilled or damage to the vehicle! Installation hardware and clear installation instructions are included.
Comfortable armrest height
Fridge Not Included and can be purchased here Click Here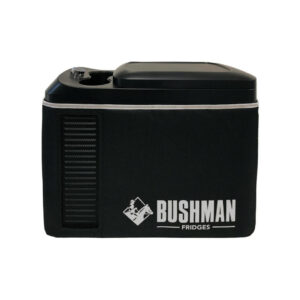 Images are for illustration purposes only.